Nom de l'appartement: QG de la mafia [cream-team]
Nom du propriétaire: :lify:
Home page du propriétaire: http://www.habbo.fr/home/%3Alify%3A
Nom du saccageur: .:Hydro:.
Raison du saccage: Etre actif
Effectuer avec un clone: Non
Date et heure du saccage: 23h 18/05/2011
Commentaires: Cette personne étant un sacageur. Il a connut l'inverse

Screen Avant: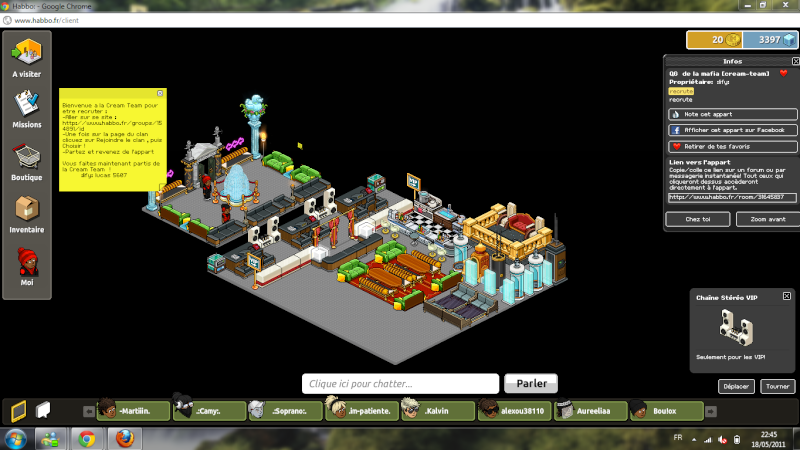 Screen Après: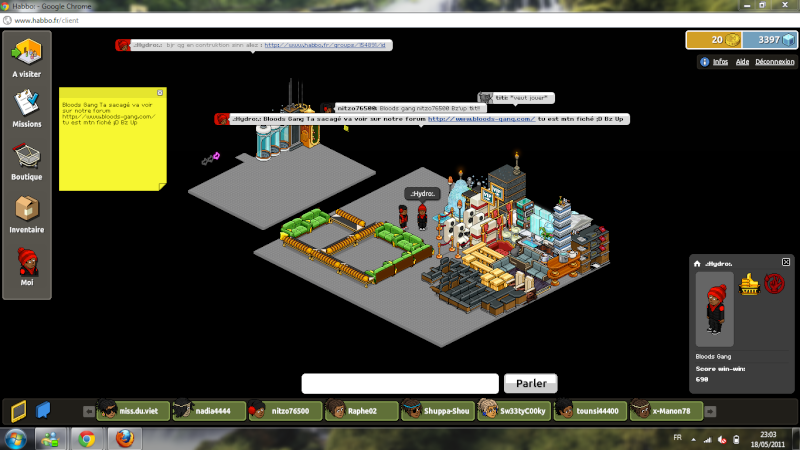 .:Hydro:.

Active Player








S
hock
W
ave ☆


2SK

Supreme Leader







olé un de plus

Spoiler:


.:Hydro:.

Active Player







bien joué, beau sigle



DUNK

Top Dawg







Pense a mettre le nom de l'appart surle skreen aprés
T'est sur la bonne voix

FREE FURIOUS



Furious

Supreme Leader







Criminal Merci

Mais on ma dit de ne pas metre justement le nom de l'apart sur le screen final :S donc je ne sais pas.
Spoiler:


.:Hydro:.

Active Player









LB

Top Dawg







K2alash †


The punishment is a right against the criminal himself.
If the judge was fair, perhaps the criminal would it not guilty.
Offenders are less evil than a bad judge.
Red Bandana, If u Bloods throw it up
United Bloods Nation .
RiP
Sakra.92
Brayou29


Ƨuwoop

Top Player







bj

Si tu m'insultes je ferais comme ta mère , j'irais te chercher après les cours
(; .
Tu dis je suis une
tass
? Mdr ; avoue ça te fou le
seum

.
Kévin & Héloise , six mois mon ange
Ça me dérange pas moi j'aime bien *


h3lois3

New Player







Bg sa gère

If You Blood Throw It Up !
Bz'Up


Adrian

New Player







.: Rollin-Bloods Nation :.



-Nitzo-

New Player







Sujets similaires
---
Permission de ce forum:
Vous
ne pouvez pas
répondre aux sujets dans ce forum